Museum of Ege University Faculty of Fisheries (ESFM)
The ESFM is registered to the Smithsonian Institute's Registry of Biological Repositories since January 2010. The museum collection contains aquatic creatures collected from Turkey since 1930's. There are approximately 4100 species, including 154 inland fishes, 120 marine fishes, 300 phytoplankton, 50 sponges, 1010 Annelids, 900 Mollusca, 1220 Arthropoda and 300 other invertebrates. ESFM's inland water fish collection contains ~46,000 individuals collected from various habitats in 26 river basins of Turkey. 154 of 236 inland fish species (65% of the total fauna) Turkey's inland fish fauna is preserved in the collection.
The museum collection also includes 31 new species (Holotype, Paratype, and Neotype) discovered by researchers of our faculty. One of them is a fish and the others are invertebrate species.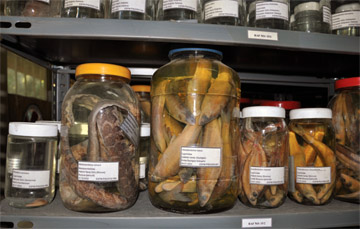 Great number of invertebrate species collected from Turkish seas stored in the museum. For example, 95% of Polychaeta species and 80% of Crustacea and Mollusca found in our country's coasts are preserved. Most specimen were used as comparison material by scientific researchers around the world. Some specimen are also used as sample material in the laboratories of lectures at the faculty. Our main goal is to preserve individuals belonging to all species living in Turkish waters in accordance with international standards, to make contribution to scientific studies, to improve education in our faculty and to raise public awareness of our biological diversity and richness.
More than 75 international articles (55 SCI) were published from museum materials. In addition, Biological materials of master's and doctoral dissertations held at the Aquaculture Basic Science Department at the Institute of Natural and Applied Sciences are also stored in the museum.
Head of Museum: Prof. Dr. Melih Ertan ÇINAR
e-mail: esfm@mail.ege.edu.tr
Tel: 0 (232) 3111734
Address: Ege Universitesi, Su Urunleri Fakultesi, Temel Bilimler Bolumu, Bornova-Izmir, Turkey, 35100
Forms
Group Codes